Not to toot my own horn or anything but I'm doing a super fantastic job updating this blog. Much better than before…
Anyways, yesterday was Gina's birthday and so I baked these fudge brownie cupcakes with chocolate chip cookie dough frosting.
Link to what they're supposed to look like here. Mine didn't quite turn out that way — the frosting was less frosting and more cookie dough. Of course, there's nothing wrong with that! They were SUPER chocolate-y. Like almost to the point of being overwhelming. Also the recipe made more cookie dough than brownie. They were a good recipe but I think next time I'll do less chocolate and smaller portions so I'll make mini cupcakes instead of normal size cupcakes.
On to life updates! I had an eye appointment yesterday and have decided to make a second foray into the world of contacts. I wore them all sophomore year of high school but decided I would rather be lazy and just wear glasses full-time instead. After much cajoling and "advice" from Dan, I decided to finally get some contacts for occasions like running/beaching/anything where wearing glasses would be inconvenient. I'm slowly getting used to putting them in my eyes again although I still think I look REALLY strange. I also got new glasses!
Here's what they look like:
They're basically the same as my other glasses except black and not purple. I looked at the colored glasses but they didn't have any that were particularly interesting or that I really wanted to wear. My bank account did not like that day because in addition to paying for my eye appointment, contact fitting fee, and glasses…. I also went shopping. BECAUSE I only had to wait an hour for my glasses to be done and I was already in the mall…. and one thing led to another and I ended up with a dress and a blazer from J. Crew. They were on sale! I won't say they were cheap because let's face it — J. Crew is never really cheap even on super/final sale. I can't find a picture of the blazer but it was your typical kind and a nude/light tan brown color.
The dress but pay no attention to the ridiculous pose/face the model is making.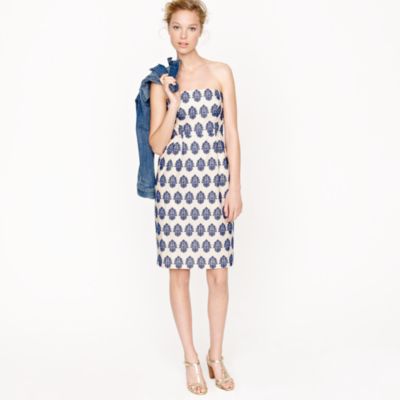 Also also, the latest development in my life is my discovery of geocaching… the "game" where you find things other people hid/can hide things yourself/sign a logbook to see who else has found the "geocache". I was reading Maphead by Ken Jennings (yes, the Jeopardy star) and he talks about it a bit. IT'S LIKE A TREASURE HUNT! But low stakes, low pressure, no order, no puzzles! Clearly this is made for me. In fact, I downloaded the free app that helps you find three geocaches and there is one essentially across the street from me by the river! I'm going to look for it tomorrow or on Tuesday. I'm so excited to find things around Providence. This summer/year is shaping out to be full of fun things to do! I love having time to do things!